Junk Removal
Dover, Delaware
Dover, Delaware, is a shining city full of history and culture. Located near the Chesapeake Bay on the Eastern Shoreline, visitors can enjoy fishing, hiking, and biking through nearby parks, like Slaughter Beach or Kurford Pond State Park. Since Colonial times, when William Penn first settled Dover in 1683, the city has continued explosive growth and saw a flourishing population upsurge after World War II. Nowadays, Dover remains one of the most critical cities in Delaware and continues to serve as an active transportation hub for freight and passengers alike.
Aside from its historical significance and cosmopolitan vibrancy, Dover holds its small-town charm—making it quite irresistible for visitors from near and far. Residents enjoy summer festivals and activities at Silver Lake Park and Dover Green. The downtown Dover district has plenty of old buildings that beautifully preserve the past, with shops and eateries to enjoy today. The architecture of schooners and ships along the harbor will take you back in time. Whether attending an event at Legislative Hall or taking a tour of John Dickinson Plantation, there are many unique things to experience in Dover, Delaware.
JUNK REMOVAL IN DOVER, DELAWARE
Unlimited Cleanouts provides timely and hassle-free junk removal that will take the load off your shoulders. Whether it's junk removal Dover Delaware or broken electronics, we have the experience and expertise to get rid of all trash quickly and correctly. With our help, you can rest assured that their old possessions are disposed of in an environmentally friendly manner – with satisfaction guaranteed. Don't hesitate to contact us at 302-760-3167 for all your junk removal needs.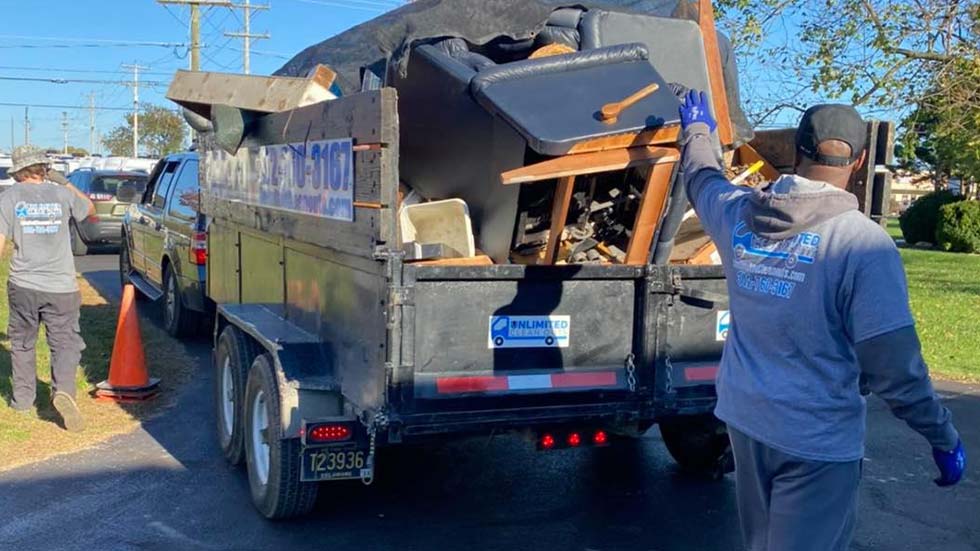 Our professional construction debris removal services ensure that your property is left clean and tidy after the job is done. We will come well-suited with all equipment necessary to clear any obstruction so that there is no mess left behind and everything is cleared up in no time.
If you're looking to do a significant furniture overhaul in Dover, Unlimited Cleanouts is here to help! From bulky couches to mattresses to dressers, we can quickly and swiftly handle even them for you. We understand that time is valuable and make it our mission to effectively and efficiently remove your old furniture so that you can enjoy your new pieces immediately.
Whether it be old furniture, discarded building materials, or unwanted junk from your home renovation projects, Unlimited Cleanouts can lend our expertise to the job. We can safely and efficiently remove debris, so you don't have to worry about doing any heavy lifting yourself.
From refrigerators and ovens to washers, dryers, and microwaves, we got your back! We can safely haul and responsibly dispose of any unused appliances you may have. We provide fast pickup services and have the latest safety standards to protect our employees and customers.
CLEANOUTS IN DOVER, DELAWARE
We know how overwhelming cleanouts can be – whether it's a post-construction debris removal or an estate cleanout – but with our team at Unlimited Cleanouts, we promise to make the process effortless. We offer complete cleanout services from start to finish; everything from packing, sorting, and hauling your items away will be taken care of, ensuring that when you choose Unlimited Cleanouts for your Dover junk removal, you don't have to worry about any of the work. Give us a call at 302-760-3167, and leave it to us!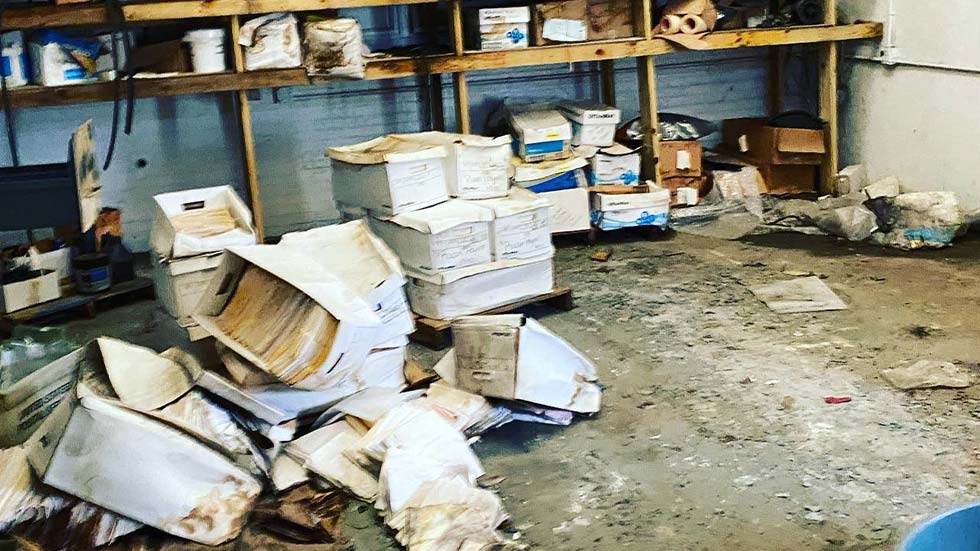 Apartment Cleanouts in Dover, Delaware
Apartment cleanouts can strip away the feeling of home and make even a previously beloved space seem foreign. Calm unfamiliarity brought on by an apartment cleanout experience can often provide clarity and relief. With unparalleled attention to detail, Unlimited Cleanouts guarantees a safe transition for all of your valuable possessions.

Foreclosure Cleanouts in Dover, Delaware
Foreclosure cleanouts are necessary to restore a home to good condition and make it more appealing to potential buyers. We can assist you with all expertise needed for a thorough cleanout of your home. Everything from furniture removal and appliance disposal to heavy-duty cleaning, Unlimited Cleanouts can provide you with the help you need so that your property is as presentable as possible.

HOA Cleanouts in Dover, Delaware
House owners associations (HOAs) often require members to keep their homes neat and tidy, which could mean having to do regular cleanouts. Only some people have the time or energy needed to do a proper job of cleaning out their entire home, however. Luckily, Unlimited Cleanouts is here to keep your home up!
LIGHT DEMOLITION IN DOVER, DELAWARE
Light demolition is a great way to renovate a home without heavy-duty equipment. If you are in Dover and need light demolition, look no further than Unlimited Cleanouts! With our extensive experience and dedication to professional service, we can safely and efficiently take care of any light demolition services you may require. Contact us at  302-760-3167 to get started!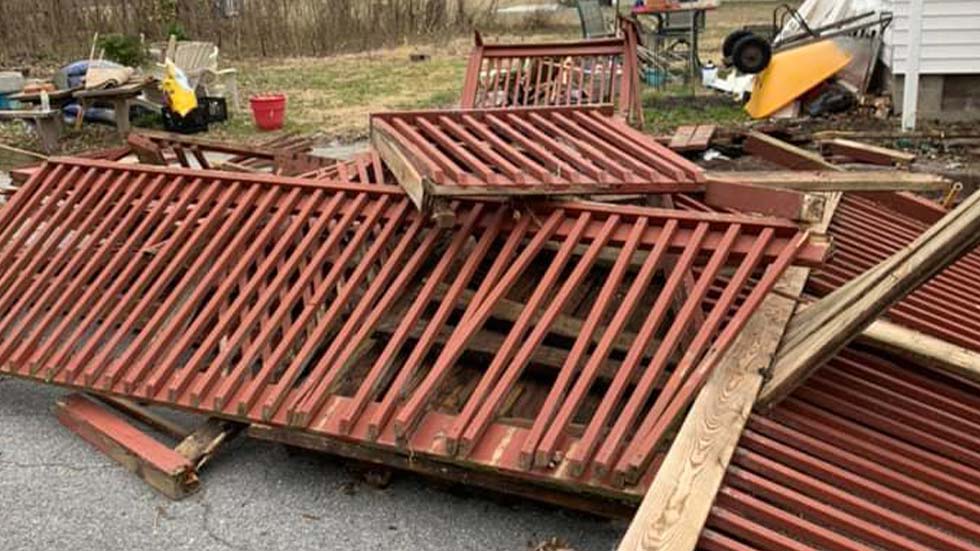 Are you saying goodbye to your adventure-filled backyard and need a way to remove your old swing set safely? Our team possesses the expertise necessary to confidently provide swift service from disassembling, removing risers, and even cleaning up the area afterward. Reduce stress and save time with our swing set removal services today!
Owning an above-ground pool can provide endless hours of entertainment in the summertime. However, if you're ready to move on from your pool or want to change your backyard landscape, Unlimited Cleanouts has the perfect solution for you! With our help, getting rid of that pesky pool can be simple and achievable.
Remodeling and renovating your bathrooms can be tedious; luckily, we offer bathroom removal to make the entire process easier for you. We handle the removal so that you don't have to worry about disposing of old tile, bathtub, vanity, and major appliances. We even provide cleanup after all the construction is complete. Let us take the hassle out of restyling your bath!
Having a deck that is in disrepair or not in compliance with local codes can be costly and dangerous. Convenient and reliable, our services can remove your old deck quickly. Whether it's a rickety old deck that needs to go or you're simply starting your backyard reno from scratch, there's no job too big or too small for us!
Regarding fence removal in Dover, we have the top-of-the-line equipment necessary for removing old structures and a professional and experienced team familiar with local codes and regulations. We guarantee that all leftover materials will be recycled or disposed of responsibly.
Shed removal is an important task that helps maintain your home's safety, aesthetic, and storage capabilities. Whether old, broken down or obstructing your view of the garden, we can help. Make life easier and eliminate that pesky shed quickly, safely, and cost-effectively with Unlimited Cleanouts today!
Same-day junk removal can be incredibly convenient for those needing quick service. Rather than waiting days or weeks for your debris and clutter to be cleared out, same-day junk removal allows you to have someone come in and take away any unwanted items immediately.
Unlimited Cleanouts can help you reclaim your home or office! With our same-day junk removal service, all that unwanted clutter, mess, and debris can be removed and taken away quickly – it'sit's truly a blessing for those who are pressed for time. Our team of experts has the knowledge and equipment needed to tackle any junk removal job, whether big or small. We strive to provide efficient, trustworthy service so you can get back to living life more freely. Trust Unlimited Cleanouts with your next mess, and let us help you turn chaos into calm.
ECO-FRIENDLY JUNK REMOVAL
Many of us are looking for ways to go green while meeting our needs. Eco-friendly junk removal is a great way to do just that. It involves disposing of old furniture, appliances, scrap metals, and more while minimizing the environmental footprint they leave behind. This helps keep nature in its natural state, creating an overall healthier environment for us to live in.
Unlimited Cleanouts promises to make cleaning your home or office more accessible and eco-friendly. Our junk removal service helps eliminate bulky items such as appliances, furniture, electronics, and yard waste quickly and efficiently. Not only do we offer dependable services with no hidden fees, but we also strive to be as eco-conscious as possible by ensuring that all materials are recycled, resold, or repurposed whenever possible. With Unlimited Cleanouts, you can declutter in a way that clears your conscience, knowing that your junk won't be adding to the growing landfill problem. Call us at 302-760-3167 to learn more about how we can help you go green with your junk removal needs.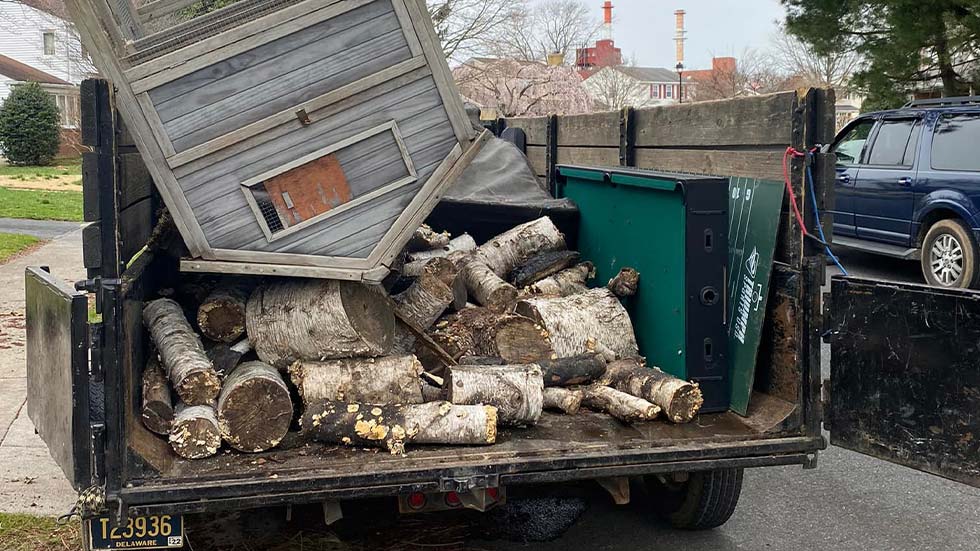 WHY CHOOSE UNLIMITED CLEANOUTS?
Offering same-day service, we are the ideal solution for those with busy schedules that need a quick cleanout of old furniture, appliances, office equipment, or construction debris.
Professionalism is the name of the game for Unlimited Cleanouts. Offering junk removal services, we strive to provide customers with solutions that meet their needs. We ensure our employees have the necessary training, safety gear, and technology to do the job quickly and correctly.
Offering a wide range of services, such as furniture removal, appliance disposal, and yard waste disposal, they've made it easy to get rid of all that stuff without lifting a finger!
Serving throughout Delaware
We proudly offer convenient and affordable junk removal services throughout Delaware and the surrounding areas. We have built a solid reputation for our fast response time, customer-oriented approach, and efficient services to our client's needs.
Excellent Customer Service
With professional, knowledgeable, and friendly staff always ready to go above and beyond for customers, our excellent customer service sets us apart from the crowd. We provide fast, reliable, and comprehensive junk removal services!
We proudly serve Delaware and surrounding areas, including:
When you have too much junk and not enough time to take care of it, contact Unlimited Cleanouts. Whether you are cleaning out a home, apartment, or business, our highly trained team can help haul away any unwanted items quickly and safely. With years of experience and an eye for detail, your junk removal project is in good hands when you choose Unlimited Cleanouts! So why wait? Get in touch with Unlimited Cleanouts for efficient junk removal services today.